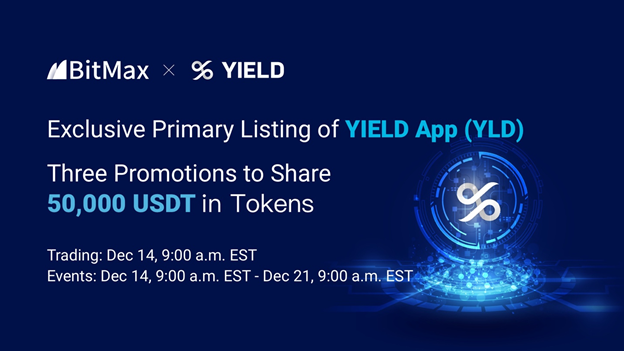 BitMax.io (BTMX.com), an industry-leading digital asset trading platform built by Wall Street quant trading veterans, has announced the primary listing of Yield App (YLD) under the trading pair of YLD/USDT on Dec 14 at 9:00 a.m. EST.
YIELD, a FinTech company licensed and regulated by Mwali International Services Authority, offers Defi-based banking services and high-yield investment solutions using crypto or traditional currencies with an objective to make the full potential of Defi accessible to everyone. Leveraging their intuitive app and web platform, users worldwide can start earning up to 20% APY without experiencing a lengthy, complex, and costly learning process.
On the backend, YIELD's team is constantly evaluating the profitable market-neutral strategies such as liquidity mining, arbitrage, margin, and collateralized lending. The highly sophisticated risk management process will also help investors realize portfolio diversification within a trusted environment.
At the core of YIELD's strategy is the YLD utility token, which allows users to considerably boost their APYand support the ecosystem. While YIELD offers a minimum APY of 12%, users will be able to boost it to 20% by holding YLD on the platform with signing up for the Loyalty & Rewards program.
YIELD's team brings together veterans from investment banking, blockchain, and cybersecurity with core members from fintech payment providers like Paxful and Wirex. The team is backed by leading blockchain investment institutions, including Alphabit Fund, Digital Strategies, and PALcapital. 
About BitMax.io 
Launched in August 2018, BitMax.io is a leading digital asset trading platform with a broad range of financial products and services for both retail and institutional clients, with robust design ranging from innovative volatility products to margin trading, derivatives trading, staking products, and other investment solutions.
For more information and updates, please visit:
Website: https://bitmax.io/
Twitter: https://twitter.com/BitMax_Official
Telegram: https://t.me/BitMaxioEnglishOfficial
Medium: https://medium.com/bitmax-io
About Yield App
Yield is a Mwali licensed and regulated FinTech company that provides an innovative platform to bridge the gap between traditional and decentralized finance. The YLD utility token allows users to boost their APY, earn interest, and support YIELD's ecosystem.
For more information and updates, please visit:
Website: https://www.yield.app
Twitter: https://twitter.com/yieldapp
Telegram: https://t.me/yieldapp
Disclaimer: The views, suggestions, and opinions expressed here are the sole responsibility of the experts. No Biz Power News journalist was involved in the writing and production of this article.