In 2020, the rise of the concept of DeFi vitalized decentralization finance of blockchain. From digital money mortgage lending, DeFi is developing various financial applications and reforming traditional finance. And decentralization has brought unprecedented enthusiasm to investors. DeFi is ignited by successive rich opportunities.
It is not difficult to see that finance is still an important area for block chain technology to land. Based on DeFi, Block chain technology also has a new business path for landing——Leading the integration innovation of digital economy and real economy to allow the block chain carry more digital assets.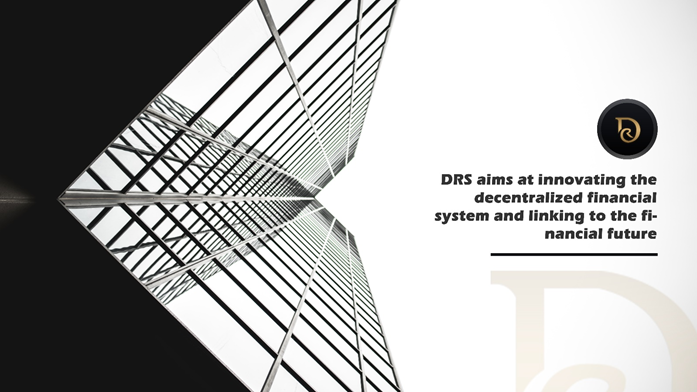 As a decentralized, efficient and energy-efficient public chain, on the basis of supporting high – performance trading, DRS(Darry Ring)realizes compatibility of smart contracts. In the future, it will become the basic platform for carrying users, assets and applications. Helping users build their own decentralized applications, DRS wallets can also be used (building a decentralized exchange) to support lending, derivatives, stable currency and other fast trading functions and high-performance services. DRS has a distinct decentralized character and its ecological construction is more fair, transparent and authentic. Transparent decentralized autonomous system supports the management structure of DRS. This structure allows each user to clearly understand all the technology construction and value transfer, which can fully reflect the public trust value of the block chain. DRS decentralized management system completely avoids the malpractice of centralized management of traditional institutions.
The DoraHacks, as global decentralized geek community, with the mission of connecting Hacker around the world, provide services and infrastructure for Hacker. DRS was initiated by team Dracula Team in the DoraHacks community with members of Jocelyn, Darren, Jason, and William. DRS technology research labs also brought together core developers of ethernet, EOS,etc.,  and top talent in blockchain, big data, and cloud computing so that it has comprehensive R & D strength for global competitiveness. Equipped with international risk control team, it has strong overall R & D strength, numbers of financial products experts and technical safety experts. Moreover, DRS's high performance and massive ecological data have laid a solid foundation for its large-scale value circulation. DRS set up a series of improved infrastructure for decentralized digital economy, so that many valuable Token can provide users with high-quality decentralized products and services based on DRS.
Committed to creating a world of autonomous, secure, compliant, pluralistic blockchain digital assets, DRS ecology allows institutional and individual investors to safely exchange financial products of any size and frequency, without worrying about the fairness and security of the platform, the privacy of user data, the transparency of platform rules, the stability and reliability of the system. Meanwhile, enjoying the perfect integration of traditional finance through DRS ecosystems with blockchain technology, it achieves value interconnection.
DRS Ecological Vision is to create a new generation of decentralized financial systems to link with central finance and the interconnected new world, making a financial world for decentralization of blockchain, traditional finance with interoperability among industries. The decentralization and traditional finance will be redefined in the great era of change.
DRS (Darry Ring), born for innovation.
Disclaimer: The views, suggestions, and opinions expressed here are the sole responsibility of the experts. No Biz Power News journalist was involved in the writing and production of this article.